Straighten Your Smile With Incognito™ Invisible Braces
Experience Expert Orthodontic Care In Dee Why
Would you love to achieve a straighter smile, but don't like the idea of wearing traditional braces? Incognito is the only orthodontic appliance system on the market today that is invisible and 100% personalised to you.
Placed on the back of teeth and custom-fitted to your mouth, you can reach your goals discreetly without worrying about "train tracks" showing.
Get your straighter smile, start today!
Call 02 9984 9849 to book your consultation.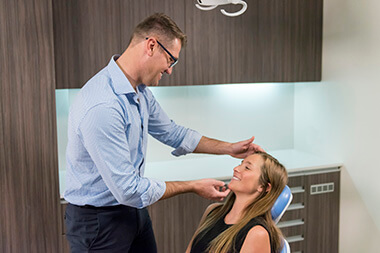 Experience The Advantages Of Incognito Invisible Braces
Ability to treat a broad range of patients and orthodontic cases
Brackets, archwires and bonding trays that are tailored to you deliver effective and predictable treatment outcomes
Invisible, comfortable and convenient orthodontic care
Smile with confidence during the duration of treatment and afterwards
Uses cutting-edge technology for a modern approach to orthodontics
Ready to learn more about this convenient, effective treatment?
Call us at 02 9984 9849 today to book your first consultation!

Personalised, Affordable Orthodontic Treatment
Find out more about Incognito in Dee Why by contacting our office today! We'd be happy to book you in for a consultation with Dr Riaan Foot (Orthodontist). At that time, we'll evaluate your particular situation and determine which of our many dental solutions would be most suitable for you. Health fund coverage can be used for your visit, and we offer a range of flexible payment plans for your convenience.
Call us today at 02 9984 9849 to get started!
---
FAQs
What ages can use Incognito?
All ages groups are eligible for Incognito. From children to teens and adults of all ages, anyone can achieve a better smile alignment with this option.
What makes Incognito different?
Incognito's advanced braces are applied on the back of your teeth so that you can go about your daily activities without feeling as if your self-confidence has decreased. They're virtually invisible to anyone looking at you. The heart of the success with Incognito involves comprehensive treatment planning with state-of-the-art computerised technology.
Is it a better option than invisible appliances?
Other clear orthodontic appliances may only be suitable for simple to moderate dental problems. All tooth movements can be completed with Incognito's core brackets and wires.
What if only my front teeth need straightening?
If you'd like to align the front 6-8 teeth, Incognito Lite may be the suitable treatment for you. Just like the regular Incognito system, the braces are hidden on the back of teeth, suitable for all ages and customised to you. The braces are attached only to the teeth you wish to move. Incognito Lite has received the prestigious International Red Dot Design Award for its innovative design.

Incognito Invisible Braces Dee Why | Wavescape Orthodontics | 02 9984 9849