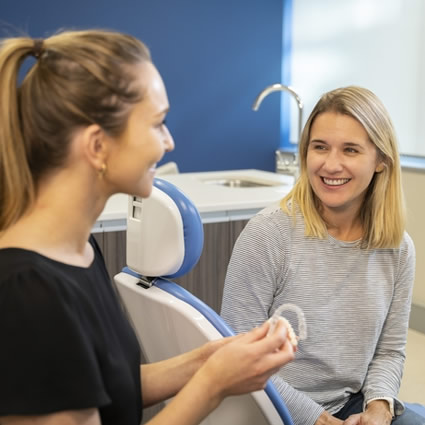 Accelerated Orthodontic Treatment in Dee Why
Increasing in popularity, accelerated orthodontics is for people who would love to achieve a straighter smile, but don't like the idea of receiving treatment that can last for years.
Wavescape Orthodontics offers this option that can shave months off the time required to help you get the aligned look you want.
The main focus of accelerated orthodontics is on improving the cosmetic appearance of your smile. With the advanced technology available on the market today, there's no need to worry about feeling like you'll have to wear your braces for extended periods.
Whenever possible, we'll seek to help you minimise the treatment times of your orthodontics while still achieving your oral health goals. The factor that usually limits the movement of your teeth can be bone healing and turnover. AcceleDent® is a solution that can speed up the process.
FAQs
AcceleDent is for
adults only
. Children and teens are generally better candidates for
traditional orthodontics
that will correct bite and alignment issues. Accelerated orthodontics is for adults who are concerned only about the cosmetic look of their smile yet don't want to spend years to get results. It can be used alongside clear aligner orthodontics.
This simple, hands-free device uses specifically calibrated vibrations that penetrate deeply into the roots of teeth and bone. Treatment is sped up by increasing cellular activity and therefore, your progress, up to 50%, and boasts decreased discomfort levels.
How Do Vibrations Make Such a Difference?
The SoftPulse technology of AcceleDent uses gentle micro-pulses to accelerate bone remodeling. When your bones receive this form of stimulation, the cell activity increases, allowing for quicker movement of your teeth.
You can use AcceleDent for 20 minutes per day, making it efficient and easily worked into your day.
Find Out if Acceledent is Right for You
We're pleased to accept health funds, and a range of payment plan options are available to ensure you have access to high-quality dental care. Contact us today to find out more about our many services including accelerated orthodontic treatment in Dee Why or to book your appointment with our team!
CONTACT US

Acceledent Dee Why, Northern Beaches, Curl Curl, Narraweena NSW | 02 9984 9849